HW-COMPACT
Professional Air Purification System
The HealthWay Compact DFS Air Purifier is designed for home or small office use. It uses the same advanced, patented technology that makes Intellipure the world leader in indoor air quality. The simple, stylish design compliments any bedroom or small living space decor.
SPECIFICATIONS & FEATURES
Protects up to 500 sq/ft Dimensions (inches) 13w x 8.75d x 20h Weight 17lbs (8kg)
120V 60Hz or 230V 50Hz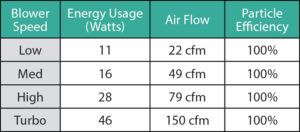 • Particle efficiency – 99.99% @ 0.007 micron
• 6-stage VOC adsorption filter for heavy removal of harmful gases and odors
• Patented DFS technology efficiently removes up to 99% of airborne mold, bacteria and viruses passing through the system.
• Each machine is independently tested and certified to guarantee better than HEPA efficiency
• Substantial reduction in airbourne microorganisms, chemicals, offensive gases odors and smoke.
• Less dust and dander, pollen, dust mite waste, bacteria, mold, fungi and virus protection
• Slim, compact, ultra slim design
• Easy to maintain
• A clean and fresh smelling environment
• The revolutionary DFS technology reduces bioburden and inhibits microorganism growth passing into the system through Microbiostasis condition.
• Our technology is effective at capturing 40x smaller size ultrafine particles than HEPA, efficiently removing 99.99% of particulates @ 0.007 micron. Making HealthWay the most efficient air purifier available.